The Weblog
This page contains news, event information, and other items added by the market managers. This is where you will find old newsletters, plus info not included in your weekly newsletter, plus the past year's weekly newsletters. 10 pages at a time are visible. You may choose to go back further at the bottom of this page.
Thank you for your interest.
"Thanks to all who make this possible!!" ~
DM, Greenville SC
"I'm really happy with everything I received. How juicy and tasty
I'm so thankful for reliable growers and market." ~ MC, Greenville SC
visit us on Facebook.

.
"Needing info on a plant? "Click here for Dave's Garden Plant Search site": PlantFiles search code:
View the Complete Weblog
Harvest News 8/02/13
This post expired on August 02, 2023.
*-
Recipes
Pickled Hot Pepper Salsa
1 1/2 cups chopped heirloom tomatoes
1/4 cup chopped hot peppers, such as jalapeños, with seeds
2 tablespoons white vinegar
1 small onion, minced
1/2 cup chopped fresh cilantro
Sea salt
Combine all ingredients and season with salt. Stir well. Let stand for 30 minutes at room temperature to allow flavors to meld before serving. Yields 4 servings. Adapted from: http://www.grit.com/departments/easy-salsa-recipe-zmcz13jazgou.aspx
~~~~~~~~~~~~~~~~~~~~~~~~~~~~~~~~~
~~~~~~~~~~~~~~~~~~~~~~~~~~~~~~~~~
Homemade Tzatziki Sauce Recipe
This simple sauce is traditionally paired with Mediterranean pita sandwiches filled with gyro meat or falafel. It's also delicious as a dip for toasted bread or raw vegetables. Try it on grilled lamb burgers, too. Makes about 2 ½ cups.
Ingredients:
1 medium cucumber, seeded and diced or grated 1 tsp. kosher salt 4 garlic cloves 2 tsp. fresh dill 2 tsp. fresh mint Juice of half a lemon 2 cups strained yogurt (see "How to Make Greek Yogurt," at right) Kosher salt and freshly ground pepper, to taste
Instructions:
Place the cucumber in a strainer set over a bowl to catch dripping water. Sprinkle salt over the cucumber and let drain for half an hour. Finely chop the garlic and herbs or crush them in a mortar and pestle. Stir the herb mixture, cu­cumbers and lemon juice into the yogurt. Season with more salt and pepper, to taste. Serve chilled.
Read more: http://www.motherearthnews.com/real-food/tzataiki-sauce-recipe-zb0z1302zmcc.aspx#ixzz2arCGK4Hn
Market News
WELCOME Locally Grown Members.
*YOU AND I ARE THE "US" IN USLG ~ WE CAN DO THIS TOGETHER.
THE

MARKET

IS

OPEN

FOR

ORDERING

!
Order today for pickup
Tuesday from 5-6 PM at Anderson Farmer's Market, Putney Farm Booth, Thursday after 6 or Friday at Swamp Rabbit Café, and
Thursday 6-8PM or Friday 8-8 at Whole Foods Market, Greenville.
Any member from any of our Upstate Locally Grown sister sites may choose any drop-off any time, from the drop-down list of sites at check out. This will not affect your "Default" drop off site.
Email
Donna
Or text: 864-353-6096
WHAT'S COMING UP IN THE GARDENS?
This week, we have concentrated mainly on recipes for the herbs and veggies that are in season now, and have hooked up with a few recipes for sauces made with this week's offering. Hope you will try some of these and add some different tastes to your diet. Give them a try; I know you will like them!
OCCASIONAL CSA: Every week we offer a grab-bag Occasional CSA for those of you who would like to share the bounty of our farms without formally committing to a CSA. What you will see in the occasional CSA this week: peppers, sweet and hot, heirloom tomatoes, freshly dug white potatoes, vegetable soup, eggs, herbs, with recipes for making life easy and healthier . This will be over $35.00 value and really, priceless, as you will receive the freshest, healthiest produce available anywhere, harvested for you just hours before you pick it up!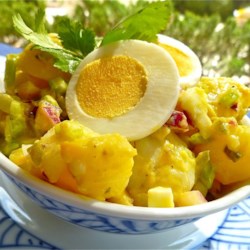 Potato Salad
Here is a basic recipe for old fashioned potato salad: Mine uses much more eggs than this, but, what do you expect from an egg producer?
Old Fashioned Potato Salad
5 potatoes
3 eggs
1 cup chopped celery
1/2 cup sweet relish
1/4 tsp. garlic salt
1/4 tsp. celery salt
1 Tbs. prepared mustard
Ground black pepper to taste
1/4 cup Mayonnaise
Directions
1.Bring a large pot of salted water to a boil. Add potatoes and cook until tender but still firm, about 15 minutes. Drain, cool, peel and chop.
2.Place eggs in a saucepan and cover with cold water. Bring water to a boil; cover, remove from heat, and let eggs stand in hot water for 10 to 12 minutes. Remove from hot water, cool, peel and chop.
3.In a large bowl, combine the potatoes, eggs, celery, onion, relish, garlic salt, celery salt, mustard, pepper and mayonnaise. Mix together well and refrigerate until chilled.
Donna's note:
Have you ever tried the potato salad hot or warm, right after it is made? Once we tried it that way, we always prefer our potato salad hot! I also add a capful or two of Apple cider vinegar. It perks up the flavors. To add health and taste boosts, I add lots of celery seed, chia seed, turmeric, and dill. I like to add the seasonings while the potatoes and eggs are still warm. They seem to absorb the flavor that way.
Want to grow some potatoes of your own? It is just about time to plant the fall crop, and Putney Farm has seed potatoes for you to order. Try them, they are fun!

Lenard Putney digging fresh new potatoes for you!
Perrilla Recipe


STUFFED CUCUMBERS
Ingredients
1 European cucumber (seedless, chilled peeled)
1/2 cup feta cheese (crumbled)
2 tbsps. mayonnaise
8 drops Worcestershire sauce
1 tbsp. parsley (minced)
Directions:
1Cut the cucumber in half lengthwise and with a teaspoon scrape out the centers containing the seeds.
2 In a small bowl, blend the feta, mayonnaise and Worcestershire sauce into a smooth mixture. Fill the centers of cucumbers with the cheese mixture. Sprinkle the cucumbers with parsley and chill them for at least 20 minutes. Before serving, slice the cucumbers crosswise into bite-sized pieces.
Suggestions: instead of parsley, try sprinkling celery seed or paprika on some of the cukes after stuffing.
You cam order many of these products frehs on Upstate Locally Grown: www.locallugrown,net or Clemson.locallygrown.net or putneyfarm.locallygrown.net on their market page.
You are the US in
USLG
!

We thank you for joining us in the effort to bring Fresh, Local, Sustainable Food from Farm to Table in the most convenient way possible.